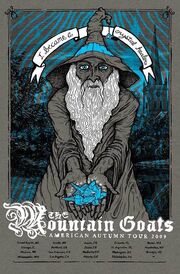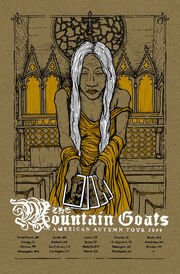 The American Autumn Tour 2009 was a November and December 2009 tour by The Mountain Goats of America in promotion of their then-recent album The Life of the World to Come. The touring lineup was John Darnielle on vocals, acoustic guitar, and piano, Peter Hughes on bass, Jon Wurster on drums, and Perry Wright of The Prayers and Tears of Arthur Digby Sellers on electric guitar.
The opening act for all shows was Final Fantasy, who joined the Mountain Goats to play a few songs with them during their set.
Two dates on the tour (Orlando and St. Augustine) were cancelled due to Darnielle being sick.
2009-11-23 - The Social - Orlando, FL (cancelled)
2009-11-24 - Cafe Eleven - St. Augustine, FL (cancelled)
Ad blocker interference detected!
Wikia is a free-to-use site that makes money from advertising. We have a modified experience for viewers using ad blockers

Wikia is not accessible if you've made further modifications. Remove the custom ad blocker rule(s) and the page will load as expected.