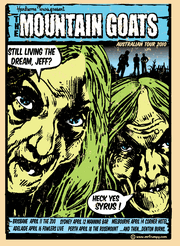 In April of 2010, The Mountain Goats toured Australia and New Zealand. The touring lineup was John Darnielle on vocals, guitar, and piano, Peter Hughes on bass, and Jon Wurster on drums.
The opening act for Brisbane, Melbourne, and Adelaide was The Crayon Fields. The opening acts for Auckland, Wellington, Sydney, and Perth were Dylan Storey, Luke Buda of The Phoenix Foundation, Catherine Traicos, and Schvendes, respectively. Chris Knox and the Nothing were billed as a second opening act for Auckland, but withdrew the day before the concert.
Ad blocker interference detected!
Wikia is a free-to-use site that makes money from advertising. We have a modified experience for viewers using ad blockers

Wikia is not accessible if you've made further modifications. Remove the custom ad blocker rule(s) and the page will load as expected.