The
Bright Mountain Choir
was a group of women who did backing vocals on some
Mountain Goats
songs from the band's inception until 1995, and then again in 2008 for some songs on
Heretic Pride
. They were formerly a reggae band known as "The Casual Girls." The whole choir has never performed all together at once in a Mountain Goats recording.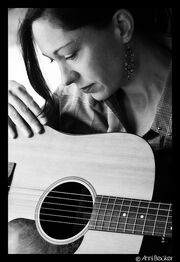 Amy Piatt
Roseanne Lindley
Sarah Arslanian
Discography
Edit
Appears on the following Mountain Goats releases:
Cassettes
Edit
Studio Albums
Edit
EPs and Singles
Edit
Compilation Appearances
Edit
Ad blocker interference detected!
Wikia is a free-to-use site that makes money from advertising. We have a modified experience for viewers using ad blockers

Wikia is not accessible if you've made further modifications. Remove the custom ad blocker rule(s) and the page will load as expected.