The Mountain Goats

(Left to right) Peter Hughes, Matty Douglas, John Darnielle, Jon Wurster. Photo by Brandon Eggleston.

Origin

Claremont, CA

Genre

Indie Folk, Indie Rock, Lo-fi, Bi-fi

Years active

1991-

Labels

Merge Records

4AD Records

Shrimper

Absolutely Kosher

Ajax

Emperor Jones

3 Beads of Sweat

Yoyo Records

Current Members
The Mountain Goats
are an indie rock band formed in 1991 by John Darnielle. He has been the only member to be in the band for the entire duration of their activity.
Former / Occasional Members
Edit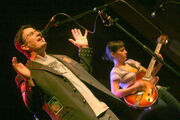 Occasional
Edit
Owen Pallett (violin, string arrangements; 2009, 2012)
Franklin Bruno (electric guitar, piano; 2002, 2005)
John Vanderslice (vocals, guitar, production; 2005, 2009)
Alastair Galbraith (violin; 1995)
Kaki King (main/backing vocals, guitar; 2008)
Allen Callaci (backing vocals; 1995)
Anonymous 4 (backing vocals; 2012)
Rachel Ware (bass, backing vocals; 2006, 2008, 2009)
Sarah Arslanian (backing vocals; 2008)
Yuval Semo (guitar, keyboard; 2010-2011)
Perry Owen Wright (guitar; 2005, 2009)
Erik Friedlander (cello, mandolin; 2005-2006)
Rob Sieracki (bass; 1995)
Discography
Edit
See Discography
Live Shows
Edit
Associated Acts
Edit
References
Edit
Ad blocker interference detected!
Wikia is a free-to-use site that makes money from advertising. We have a modified experience for viewers using ad blockers

Wikia is not accessible if you've made further modifications. Remove the custom ad blocker rule(s) and the page will load as expected.