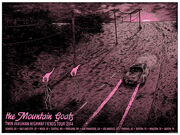 On April 1, 2014, Twin Inhuman Highway Fiends Tour 2014 was announced via newspost on the Mountain Goats's official website. Drummer Jon Wurster did not accompany the Goats on tour, meaning that John Darnielle and Peter Hughes again toured as a duo like they did regularly from 2001 to 2007, and again in 2013.
From mountain-goats.com:
"Last year Peter and I did a couple of duo tours: the U.S. one took us as far west as Chicago[1], and the European one went all the way out to Barcelona. We don't really get a chance to do the duo thing much any more. It is a blast, and it gets us into all-ages rooms, and we get around to a bunch of songs that've been lurking in shadowy corners for ages waiting for the bright fuel of the footlights. I would like, therefore, to alert the west coast, my old stomping grounds, that we are stomping your way duo-style for the first time since 2007, and that all the shows are all-ages, and that if the all-ages duo tour from last summer is any indicator, it is going to be a huge party."
The opening act for all the shows is Loamlands.
The name of the tour is a reference to the Mountain Goats song "Twin Human Highway Flares" from Full Force Galesburg.
In-Store Shows/Radio Sessions
Edit
↑ The Tuttlingen Warriors Tour that he is referring to actually went as far west as Kansas City, Missouri.
Ad blocker interference detected!
Wikia is a free-to-use site that makes money from advertising. We have a modified experience for viewers using ad blockers

Wikia is not accessible if you've made further modifications. Remove the custom ad blocker rule(s) and the page will load as expected.